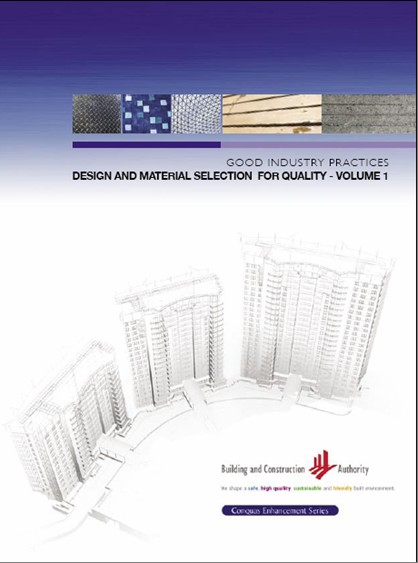 This "Design and Material Selection for Quality - Volume 1 is part of the CONQUAS enhancement series on Good Industry Practices. Careful consideration in design and material selection not only improves construction quality but also facilitates construction and reduces dependency on on-site manpower.

This guide focuses on upstream design and material choices that makes achievement of quality excellence easier. It shares with the industry, some of the good practices adopted by developers, practitioners and contractors who consistently deliver high quality work through thoughtful design and proper choice of materials in construction, particularly in residential buildings. These practices are drawn largely from projects that achieved high CONQUAS/Quality Mark scores.
FOREWORD

ACKNOWLEDGEMENT

CONTENTS

INTRODUCTION

1. An Overview of Buildable Design and Quality
2. Influence of Layouts/Shapes on Quality and Constructability
3. Quality Issues in Conventional Methods & Materials
4. Quality Features in Structural Elements
5. Quality Features in Architectural Elements
6. Design and Detailing for Quality in Architectural Components
7. Design and Detailing for Quality at Adjoining Locations/Trades
8. Example Projects

References and Further Reading


Click here to print a copy of the order form.