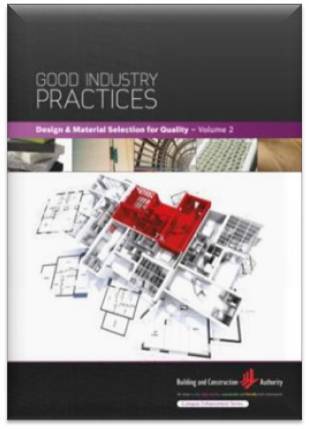 This "Design and Material Selection for Quality - Volume 2" continues from Volume 1 published in 2008 and is part of the CONQUAS enhancement series on Good Industry Practices. The guide focuses on proper choice of materials, primarily architectural materials, to achieve good quality workmanship and productivity. Agglomerated and Engineered Stones, Engineered Timber Flooring, Impregnator for Natural Stones and Composite Fiber Plastic Material, are some of the materials featured. Most of the identified good practices are drawn from residential projects that achieved high CONQUAS/Quality Mark scores.
FOREWORD

ACKNOWLEDGEMENT

CONTENTS

INTRODUCTION

1. AGGLOMERATED MARBLE
2. ENGINEERED QUARTZ STONE
3. RECTIFIED CERAMIC TILES
4. LIGHTWEIGHT COMPOSITE STONE PANELS
5. BEDDING ADHESIVES FOR STONES AND TILES
6. GROUTING FOR STONES AND TILES
7. IMPREGNATORS FOR NATURAL STONES
8. ENGINEERED HARDWOOD FLOOR
9. FILLERS FOR REPAIR AND REINSTATING STONE AND TIMBER
10. HONEYCOMB TIMBER DOOR AND INTEGRATED ARCHITRAVE FRAME
11. COMPOSITE FIBRE PLASTIC MATERIAL
12. WATERPROOFING OF REINFORCED CONCRETE FLAT ROOF
13. M&E FITTINGS AND ACCESSORIES


EXAMPLE PROJECTS

REFERENCES


Click here to print a copy of the order form.