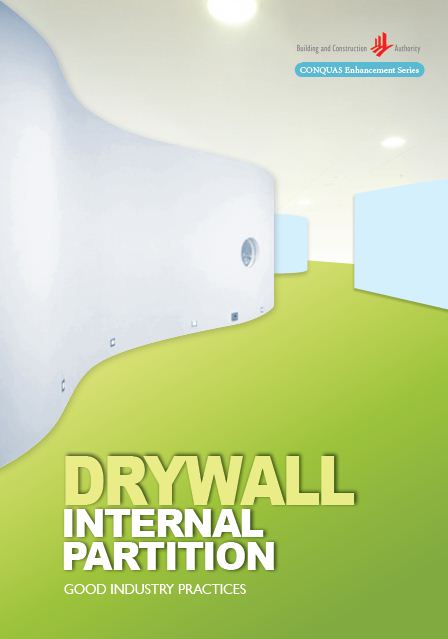 This Drywall Internal Partition Good Industry Practices is part of the CONQUAS enhancement series on Good Industry Practices. With rising expectations on quality, increasing construction costs amidst tightening manpower supply, mandatory minimum buildability and constructability score requirements, drywall construction is a viable solution to meet these requirements and achieve high quality and productivity.

This guide shares the good practices adopted by practitioners and contractors who consistently deliver high quality work in internal drywall construction. It provides simple and practical illustrations to users on how good quality work can be achieved with high productivity. Common defects associated with drywall internal partition and their corresponding remedies are highlighted. Charts, photographs, graphical representations and tables are used extensively to provide easy reference and better illustration of the practices.
FOREWORD

ACKNOWLEDGEMENT

CONTENTS

1. INTRODUCTION
2. DESIGN
3. MATERIAL SELECTION
4. DELIVERY, HANDLING AND STORAGE
5. PREPARATORY WORKS
6. INSTALLATION
7. PROTECTION
8. WET AREAS APPLICATION
9. RECOMMENDED DETAILING
10. COMMON DEFECTS AND REMEDIES


APPENDIX

Appendix A. Wall Comparison By Function Requirements
Appendix B. Sample of Fixing Items
Appendix C. Sample of Inspection and Test Plan
Appendix D. Request for Inspection Form



REFERENCES


Click here to print a copy of the order form.